It's that time of year again, college basketball's most exciting tournament, March Madness! According to Statista, last year's March Madness tournament had 10.7 million viewers, and 36.5 million brackets were filled out. Bringing March Madness content to your digital signage is a great way to add some excitement and fun to your organization.
1. Premade Content Feeds
If you're looking for a hands-off way to display professional digital signage content, content feeds from providers like Screenfeed and DataCall are excellent tools.
Screenfeed and DataCall both have premade March Madness content, and updates are automatic. There are a variety of views and different feeds to choose from, and implementation is effortless. Feed categories include sports, weather, entertainment, social media, and more.  Screenfeed and DataCall content feeds are available for purchase in the Arreya store. 
2. March Madness Digital Templates
Content feeds are excellent for providing real time updates and showing the actual tournament bracket, but what if you want to display a custom bracket, or only part of the bracket, like the Final Four? Digital signage templates are great for making custom content. March Madness templates allow you to fill out your own bracket and display whatever portions of the bracket you want. 
3. Bringing in your Bracket
If you've already filled out your March Madness bracket, and you want to bring it into your digital signage, you have a couple of different options.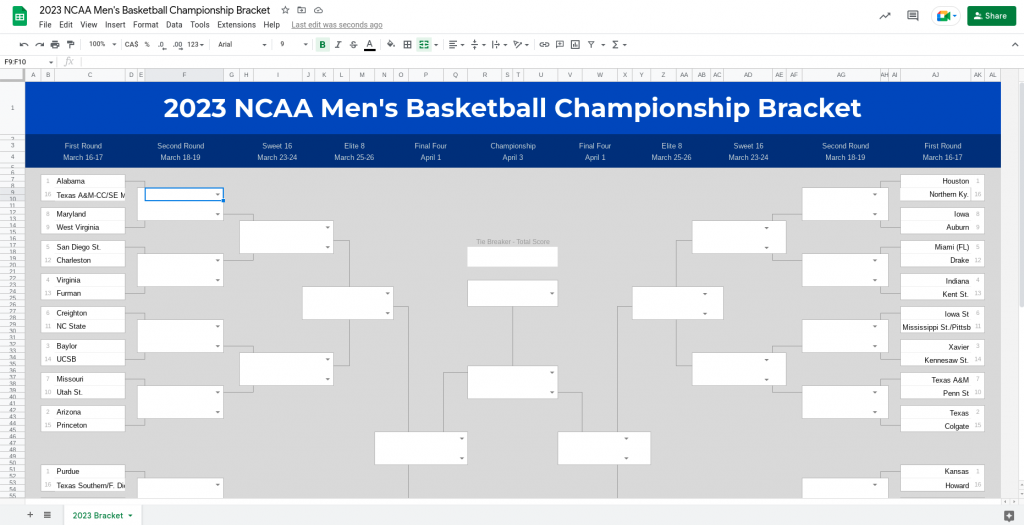 Depending on where you filled out your bracket, you may have options to export it.
You can export your bracket as a Google Sheet, and then import the data from that sheet. Alternatively, you can export to a PDF, and paste the PDF into your digital signage editor. 
4. Display a Live Stream
If you have access to a streaming service with March Madness games, you can embed the stream into your digital signage. You can embed live streams pretty easily. Generally, you just need access to the appropriate URL. You can resize the stream however you want, and display other content simultaneously. Learn more about livestreaming with digital signage. 
5. Using Live Input
Another way to bring March Madness games to your digital signage is through utilizing live input. If you have a capture card, you can connect the capture card to your input via HDMI cable, and then connect the capture card to your digital signage player. This will allow you to display live input within your signage in conjunction with other widgets. Learn more about using live input on your digital signage.
Enjoy March Madness
The methods we covered are all great ways to incorporate March Madness content into your digital signage. However, they can also be used year round for many other events and applications. Live Streams, digital signage templates, and content feeds are all excellent tools to keep your signage fresh and up to date. These tools save you time by automatically bringing in content and contribute to a better digital signage experience.