SPCA (Society for the Prevention of Cruelty to Animals) came to Arreya with the vision of creating a digital donor wall. They decided to use Arreya's creative studio to create custom content to recognize their generous donors. Arreya was proud to help make this donor wall a reality.
Recognizing Donors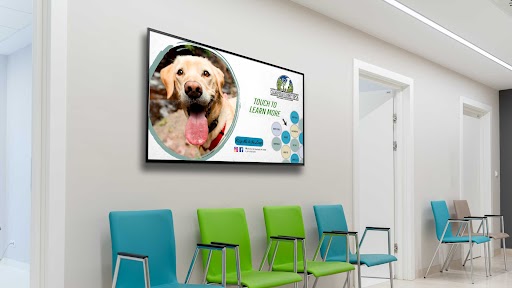 SPCA and animal shelters everywhere advance the safety and quality of life for animals all across the globe. Thanks to their work, thousands of dogs, cats, horses, and other animals have been rescued. SPCA is a non profit organization, and donors are integral to their work. Because of this, they needed a modern and professional way to recognize their donors, and to encourage new donations.
Customizable Content
Arreya's creative studio gives organizations all the freedom they need to create custom digital donor wall content. Names and donors are easily updated. Another big benefit is that pictures and videos are now easy to replace.
Also, content is scheduled in advance for events and announcements. Overall, Arreya has the tools, hardware, and support needed to properly recognize and encourage new donors and improve digital communications.
Unlimited Devices
Since Arreya is a Progressive Web Application (PWA), it can be deployed to any screen with a modern browser and stable internet connection. For SPCA, this meant that their donor wall could be displayed anywhere. This also allows them to recognize and thank donors on a larger scale, no matter where they are physically located in addition to providing a more engaging viewing experience.
Click here to learn more about using Arreya as a PWA (Progressive Web App).
Seamless Implementation
Arreya's white glove service made implementing SPCA's digital donor wall effortless. The digital donor recognition wall is powered by a Chromebox device. The Chromebox was enrolled in a Google Admin Console, which allows it to be locked down in kiosk mode, and then paired to the Arreya channel.  Finally, the Arreya channel automatically pulls in the latest content and donor information from an excel spreadsheet, which means the donor wall always displays the most up-to-date information. 
A Complete Donor Recognition Solution
Arreya was able to provide the SPCA with a complete donor recognition solution. There was no lengthy onboarding process or involvement with third party companies. With support from Arreya's team, and  also Arreya's intuitive and robust digital signage software, SPCA was able to easily set up, manage, and display meaningful donor recognition content on their digital donor wall.