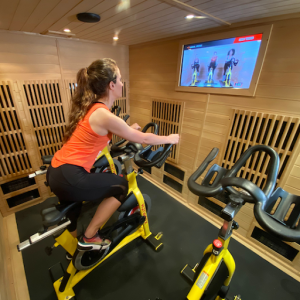 Hotworx is a revolutionary fitness company that utilizes saunas to give its members a unique, 24/7 fitness experience. Hotworx has locations worldwide, with thousands of saunas. Each sauna has a Chrome device, with Arreya digital signage software installed, playing Hotworx fitness content every single day. Arreya is business critical for Hotworx, since it is responsible for displaying content on every screen of every sauna at specific times. The time zone scheduling built into Arreya allows Hotworx to offer automated workouts around the globe and in 15 minute intervals. Hotworx is a prime example of how digital signage for gyms and fitness centers is a key tool in business success. Arreya and Chrome Enterprise management fixed key problems, which helped Hotworx accelerate growth and keep their fitness content fresh.
"Shifting from Windows to ChromeOS and Arreya is exactly what we needed. It helped us scale and release updates more frequently, putting us light years ahead of where we were."

Robyn Powell, Vice President of IT for HOTWORX
A Reliable and Scalable Solution
Hotworx was working extremely hard to provide their members with fresh content prior to choosing Arreya. "Before we opened our first HOTWORX location, we tested out digital screens using a Windows PC stick and a proprietary application to run videos. Unfortunately, the combination was buggy. The Windows update notification screen would interrupt workouts, and we had to watch the minutes tick by until the updates were done. With this solution, the HOTWORX franchise owners also had to get involved in troubleshooting. We sent out training videos on SD cards that owners had to load. We'd give them instructions on how to set up user profiles and load the videos, but we often had to login remotely to solve the issues. It's vital that the HOTWORX systems have 24/7 uptime, so we had to rethink our approach."
This process was time consuming, tedious, and unreliable. With Arreya, Hotworx was given the freedom to change out videos at any time across all devices at once. New videos are simply uploaded to the Arreya media library, and they can be scheduled at any time. This saves Hotworx massive amounts of time, effort, and money. Arreya's channel based pricing builds even more value for Hotworx, allowing them to display a single channel of content across as many devices as they want for one flat rate.
Enterprise Device Management and Robust Security
A company with thousands of devices in the field like Hotworx requires an enterprise level device management system. As a Chrome Enterprise Recommended solution, Arreya has all of the tools and security features an enterprise level customer, like Hotworx, needs. All of Hotworx's devices, over 4,500, are organized and managed in the Google Admin Console. The Google Admin Console allows the Hotworx IT team and Arreya support to troubleshoot with tools like remote desktop, device logs, the ability to take device screenshots, and remote reboot. Hotworx benefits from Arreya's  robust security infrastructure, as well as Google's security features, like device health monitoring and verified boot.
Professional Grade Hardware
Digital signage hardware for gyms and fitness centers like Hotworx needs to be durable and reliable. Arreya's partner company, AOpen, provides Hotworx with all of their Chrome digital signage players. Downtime is minimal thanks to AOpen Chrome devices. Hotworx enjoys the built in security benefits of Chrome, the reliability of AOpen devices, and the ease of use and creative freedom of Arreya. A digital signage partner that is key to virtual business models like Hotworx and critical timing of content.
A Complete Digital Signage Solution
Hotworx needed an overhaul when it came to their digital content. Arreya continues to provide Hotworx with a complete solution to their digital signage. Arreya makes it easy to keep content fresh and provides enterprise level support. Chrome Enterprise Management makes troubleshooting and organizing devices simple and efficient. Reliable AOpen digital signage players keep saunas up and running, minimizing downtime. All of these services combine for an optimal digital signage experience. Click here to learn more about using digital signage for gyms and fitness centers.