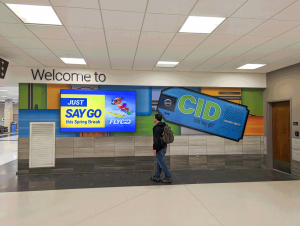 Advertising on digital signage is a fantastic way to grab the attention of all airport passengers.  A recent airport installation by the Arreya team is a complete design. In addition to the massive 98" monitor, there is custom wallpaper, designed to look like luggage, a 3-D luggage tag and dimensional lettering. The Arreya digital content, managed by the airport marketing team, is welcoming advertising for passengers arriving in the area. 
Airports, international and local, deal with thousands of clients on a daily basis. Including businesspersons, tourists, domestic and international travelers, and the people that accompany them to the airports. Navigating airport digital signage can be a positive if planned correctly and thought out.  It should be done by a professional digital wayfinding team, like Arreya. Many times wayfinding is left to the architectural firm, who think of signage as an afterthought on projects. 
While the Flight Information Display System (FIDS) is the most common content for airport digital signage, there are a numerous variety of functions that digital screens can provide.  CURRENT US FLIGHT STATS
Traveler Experiences
Airport digital signage improves an average traveler's experience at the airport. The most common stress source for passengers at the airport is being rushed and confused by the lack of signage.
First-time travelers or not, passengers tend to pause when trying to get to gates or find amenities at the airport. The several terminals, counters, and intricate airport landscape is often very overwhelming.
The foremost benefit of digital signage solutions at the airport is enhancing the customer experience. Airport personnel can optimize the display screens by running signs, helpful tips, directions, and reminders on schedules so that passengers can easily locate their needs. Easily optimizing digital content by pinpointing specific travelers during the day or months. Similarly, digital displays catch travelers attention with bright colorful and dynamic content. Thus, digital signage screens provide the best customer experiences.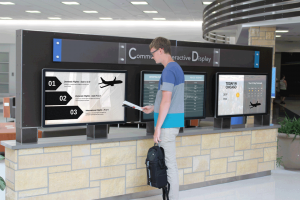 Advertising
The financial rewards of digital advertising is the easiest sell with digital signage. Airports are packed with people, a common hub to catch interest with digital content, either international or domestic. Airports are a focused location for the specific brands targeting their audiences.
Retail and businesses are an easy sell for advertisements on screens across the airport space. You can make excellent revenue off the displays via promotions and advertisements for local and national businesses. Advertisements for jobs, vacation specials, ground transport, or restaurants can grab the captive audience. Brand owners are aware that not everyone boards their flights on time so they can capitalize on the wait time spent inside the airports.
Entertainment and Information
Besides wayfinding and relaying relevant information to the passengers, digital signage is a secondary source of entertainment and engagement for travelers.  Bored with scrolling mobile devices, travelers can look at something different with entertainment and information digital content.
Spending hours waiting at the airport, sadly, isn't uncommon. Flight delays, the processing time of security, check-ins, and customs can be time consuming for passengers should they have nothing to pass the hours. Digital signage can help reduce the wait time despite having mobiles in the hands.
It can run sports, weather news, concerts, TV series, and even Disney movies to diminish the torture to some extent. Generally, other kinds of infotainment about the environment and animals can also work fine, as long as there is something to watch on a bright, vibrant screen. In fact, cartoons work even better to keep kids distracted.
Internal Communication
Moving from the external audience benefits to internal ones, digital signage screens is an extremely convenient tool to communicate super-smoothly with the audiences on the other side of the fence.
These include airport managers, employees, counter staff, and other workers trying to effectively run the airport realm. Communication is the key to proper management. Hence, digital signage screens placed strategically can exchange information to hundreds of workers within a second. It helps increase the productivity of staff twofold. Simultaneously, communicating a security threat is a prime example of such cases to alert not only the staff but also instruct travelers on what to do.
What to Consider For Airport Digital Signage Launch
Navigating airport digital signage can feel overwhelming. Help is there, in professional digital wayfinding teams, like Arreya. First, consider what digital content you want to show. Start with the basic information such as FIDS and work up to the advertising and entertainment displays.  Then, map a path through the airport and include the employee areas. Mark the locations on a map. Include the access to electrical and internet to make installation easier.
Displays and Chrome devices
Only use commercial grade displays meant for 24/7 usage. Commercial grade displays maintain their brightness and have a longer life.  Look at warranties and if they have an on-site replacement warranty. Arreya only sells commercial devices meant to last for years.
Digital signage is only good if your content is playing and being seen. The most reliable players on the market are Google Chromeboxes. Verified by Google and Arreya for security, reliability and durability. Chromeboxes come in fanless models with hardened cases for high traffic areas. They are powerful enough for the most complex and dynamic digital content.  Reduce the Maintenance and IT involvement with digital signage by using Google Chromeboxes. Saving labor costs and increasing engagement.
Along with Chrome Management Upgrade Licenses, Chromeboxes can be locked into kiosk mode for digital signage that can't be hijacked. No unwanted content ever. Chrome Management also allows for remote hardware management and screenshots.
Arreya Digital Signage software service
Quickly and easily make updates for immediate deployment or scheduled information.  Arreya allows users to view from anywhere and make changes quickly. Admin can login from any computer and update content, take screenshots and be confident their devices are connected and on.
Airport digital signage can seem complicated, but beginning with a good planning foundation will take out the anxiety. Professional digital experts in wayfinding and digital installs are an important part of the team when navigating airport digital signage.